講座メンバー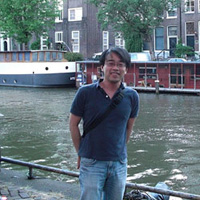 鈴木 章円

助教
現在の研究テーマ(current research project)
恐怖記憶連合を司る脳領域の検索
抱負(ambitious future plan)
NCSコンプリート
専門分野 (background scientific field)
神経科学、分子生物学
略 歴(personal history)
学歴
1994年3月 神奈川県立伊志田高等学校卒業
1995年4月~1999年3月 東京農業大学 農学部 農芸化学科
2000年4月~2002年3月 東京農業大学大学院 農学研究科 農芸化学専攻 博士前期課程 修士(農化)
2002年4月~2005年3月 東京農業大学大学院 農学研究科 農芸化学専攻 博士後期課程 博士(農化)
職歴
2005年4月~2008年7月 東京農業大学 応用生物科学部 バイオサイエンス学科 博士研究員
2008年8月~2011年6月 米国マウントサイナイ医科大学 ニューロサイエンス学科 博士研究員
2011年7月~現在 富山大学大学院 医学薬学研究部(医学) 生化学講座 助教
業 績(publications)
1. Genetic enhancement of neuropathic and inflammatory pain by forebrain upregulation of CREB-mediated transcription
Descalzi G, Fukushima H, Suzuki A, Kida S, Zhuo M.
Mol Pain. 8, 90 (2012).
2. Upregulation of CREB-mediated transcription enhances both short- and long-term memory.
Suzuki A, Fukushima H, Mukawa T, Toyoda H, Wu LJ, Zhao MG, Xu H, Shang Y, Endoh K, Iwamoto T, Mamiya N, Okano E, Hasegawa S, Mercaldo V, Zhang Y, Maeda R, Ohta M, Josselyn SA, Zhuo M, Kida S.
J Neurosci. 31, 8786-8802 (2011).
3. Astrocyte - neuron lactate transport is required for long-term memory formation.
Suzuki A, Stern SA, Bozdagi O, Huntley GW, Walker RH, Magistretti PJ, Alberini CM.
Cell. 44, 810-823 (2011).
4. CBP/p300 is a cell type-specific modulator of CLOCK/BMAL1-mediated transcription.
Hosoda H, Kato K, Asano H, Ito M, Kato H, Iwamoto T, Suzuki A, Masushige S, Kida S.
Mol Brain. 2, 34 (2009).
5. Brain region-specific gene expression activation required for reconsolidation and extinction of contextual fear memory.
Mamiya N, Fukushima H, Suzuki A, Matsuyama Z, Homma S, Frankland PW, Kida S.
J Neurosci. 29, 402-413 (2009).
6. Upregulation of calcium/calmodulin-dependent protein kinase IV improves memory formation and rescues memory loss with aging.
Fukushima H, Maeda R, Suzuki R, Suzuki A, Nomoto M, Toyoda H, Wu LJ, Xu H, Zhao MG, Ueda K, Kitamoto A, Mamiya N, Yoshida T, Homma S, Masushige S, Zhuo M, Kida S.
J Neurosci. 28, 9910-9919 (2008).
7. Activation of LVGCCs and CB1 receptors required for destabilization of reactivated contextual fear memories.
Suzuki A, Mukawa T, Tsukagoshi A, Frankland PW, Kida S.
Learn Mem. 15, 426-433 (2008).
8. Stability of recent and remote contextual fear memory.
Frankland PW, Ding HK, Takahashi E, Suzuki A, Kida S, Silva AJ.
Learn Mem. 13, 451-457 (2006).
9. Memory reconsolidation and extinction have distinct temporal and biochemical signatures.
Suzuki A, Josselyn SA, Frankland PW, Masushige S, Silva AJ, Kida S.
J Neurosci. 24, 4787-4795 (2004).
趣味・特技(hobby, specialty)
スキー、釣り、野球観戦、ビリヤード